thanksgiving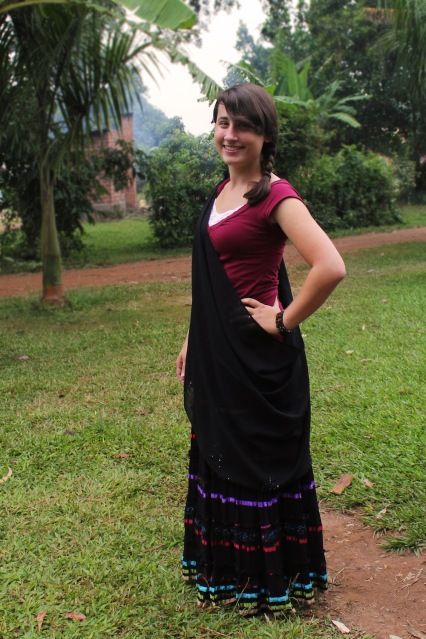 The mushanana is traditionally a Rwandan outfit for special occasions, adopted by neighboring Uganda. If I were wearing it more correctly, the skirt would also be solid black to match the shawl.
On Saturday, New Hope celebrated its annual Thanksgiving, a tradition that has stood for the past two decades. Tucked away in the middle of the bush and the jungle, speakers blaring and the power only cutting out once, we gave thanks. There were hundreds of attendees, and even a special visitor from the government: Janet Museveni, Uganda's First Lady.
For me, one of the most meaningful parts of the service was a testimony from a young lady who had traveled from Kobwin Children's Centre, a ministry of New Hope in northern Uganda. Kobwin isn't just a children's center—it's a place of healing for those who were victims of Kony and the LRA. This young lady has probably seen more in her short lifetime than the average American teen sees in a few year's worth of R-rated movies. But her voice rang out loud, passionate, piercing. Rising and swelling with the emotion of the story she told. She spoke in the language of her northern tribe, so one volunteer translated into English, and another translated from English to Lugandan. It was an incredible moment: one girl, one story, three languages, countless listeners, and infinite emotion. Our God is very, very big.
I introduced myself to her afterwards, and tried to tell her how much I appreciated her testimony. Her English vocabulary seemed to consist of "yes" and "thank you." I'm not sure she really understood what I was saying. But maybe the important thing is that I said it.
Thank you for sharing. Thank God for your life and mine. Thank Him for letting them cross, if only for this brief moment.
Thank Him for everything.
Tags: Africa, God, NHU diary, thanksgiving, Uganda