classroom snapshot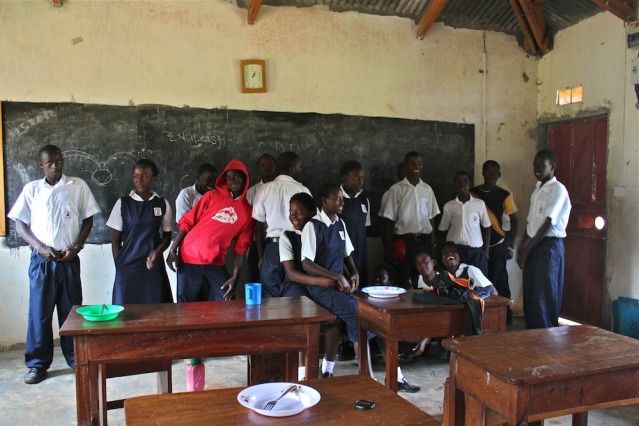 "Hey, guys! I brought my camera today—can we take a quick group picture before lunch?"
Plates, forks, and cups are already being pulled out from under the desks. But a few of my S1B students laugh and go along with my request, forming an uncertain line against the back wall. A few more aren't so sure, and sneak out to watch us through the windows.
I snap the picture. Aminah is nearly hidden on the floor and Charles seems to think it's funny to turn his back to the camera. Wilber, giving up on attempting to bring his classmates to order, is probably the only one standing still and smiling normally.
I take a second picture, just to make sure, and tell the kids they're finished. Most of them crowd around to see the photo on the LCD screen. As usual, they seem to find the image absolutely hysterical.
So it's incomplete, on account of the few who are watching through the windows. It's shadowy, because someone wanted to close the door. And no one seems quite sure how exactly to pose for a picture.
But there they are. Most of my S1B students.
Maybe after speech, we should learn about photography.