always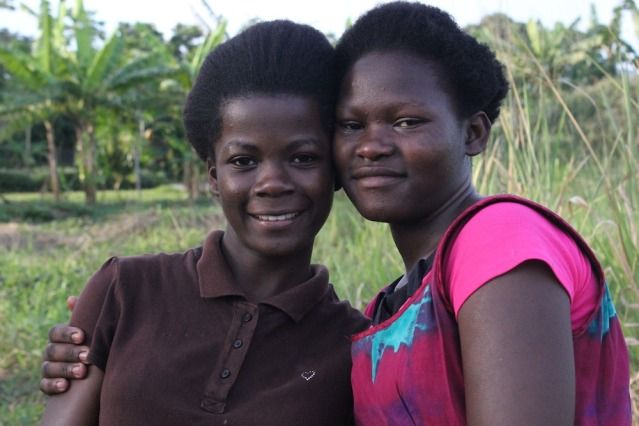 Annette and Jessca
Wednesday evenings are some of my favorites. We (the Brittons and I) grab our plates and forks and head out the door to David Family, where we have devotionals and dinner. All preceded, of course, by some good old-fashioned fellowship.
Tonight, I wandered over to where Annette was finishing the last of the laundry, and spent a few minutes talking, laughing, and catching up on her week. As she headed into her "hut" to get ready for dinner, I followed along. Each family group at Kasana is structured the same way: there are a few round huts for the girls, and a few for the boys, with maybe around five kids per hut. Birungi and Jessca joined us inside, and we plopped ourselves down on various beds.
Right here, in these moments, something clicks. It doesn't matter that our native languages are different. It doesn't matter that I come from the other side of the world. It doesn't matter that their skin is brown and mine is white (but not as white as some muzungu, they have pointed out). It doesn't matter that there is dirt on the floor and the roof is thatched and clothes are hanging to dry on the big crossbeam over our heads.
All that matters is that Annette is sitting across from me, making funny faces and mimicking everything I say in a funny voice. Jessca comes in, sees me on the bed, and lights up, giving me a huge hug. Biru pulls out a collection of photos she keeps on her shelf, and shows me pictures of herself growing up at Kasana. She finds one of herself from last year, dressed in a gorgeous mushanana, and hands it to me, telling me that it is mine to keep. At the girls' giggling request, I think of a funny story from my American home and send us all into fits of laughter. And then at my request, Annette and Biru create an impromptu song and dance routine that makes my face hurt from laughing. Jessca reminds us that we need to make time for another evening walk, like we did last week.
And then Annette mentions that I will be leaving soon. I try not to let those words sink in.
As we gather around the table in the center of the compound, with the rest of David Family, I hang on tight to Biru's picture. Back home in my room, it goes safely between the pages of my journal. With all the things I want to remember forever.
I've tried to tell these girls how much I'm going to miss them. How I really do consider them my sisters. How I love them so, so much.
These are the things I never want to forget.
These are the moments that will be with me always.