the least of these
Since I am only teaching on Mondays and Thursdays, my schedule for the rest of the week is just waiting to be filled. Today and yesterday (Tuesday and Wednesday), I headed over to the clinic to help with New Hope's special needs kiddos.
I have worked with kids with disabilities in the past, mainly involving therapeutic riding programs. It's neat work–it really is. But let me confess that spending a day with special needs kids is hard for me. These just aren't the ones that I easily describe as "cute" or "lovable"–and the fact that it's a struggle for me makes me feel that my time in the special needs classroom won't be wasted. From 8:45am to 3:30pm, I am doing hard stuff. Hard, good stuff.
Sharon (Downs Syndrome) listening to the telephone Uncle Eric made in class.
During these first two days, I've tried to gain a better understanding of each of the students' individual stories. Kakande, Isma, Godfrey, Sharon, Kakulu, Hassan, Allen, Ivan, Carol, and Brian. Mentally delayed, Downs, cerebral palsey, spina bifida, stunted growth, malnutrition and paralysis and lameness. So many concerns. So many problems. So many special ones.
Kakulu, having fun smiling for the camera after bath time.
They are so surprisingly happy. Language is a barrier here, moreso than usual–these children don't really speak or understand English, except perhaps to exchange greetings and answer the expected "how are you today" with "fine." Kakulu loves to laugh and smile, is incredibly ticklish, and will constantly wave his hands and try to get my attention, shouting "Auntie!" His cerebral palsey confines him mostly to his wheelchair.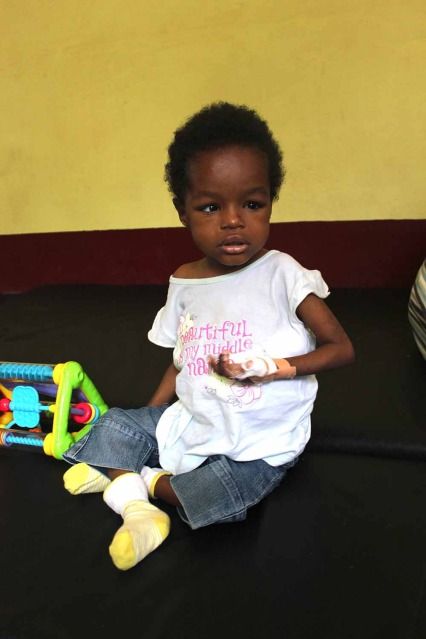 Allen, pictured above, is so, so tiny. Her little wrists and ankles are maybe slightly more than an inch in diameter. When I ask the Ugandan workers what is wrong with her, they say that she is stunted–probably due to malnutrition as a young child. Allen looks to be about two or three years old. In reality, she is nearly ten. She weighs less than 20 pounds.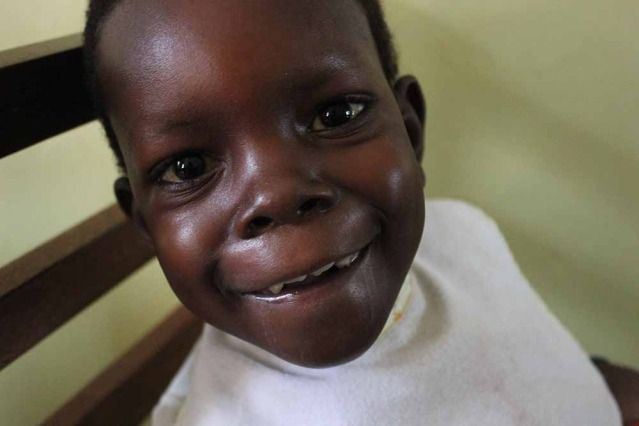 Ivan's situation is very similar to Allen's. You wouldn't know it, though, to look at his smiling face.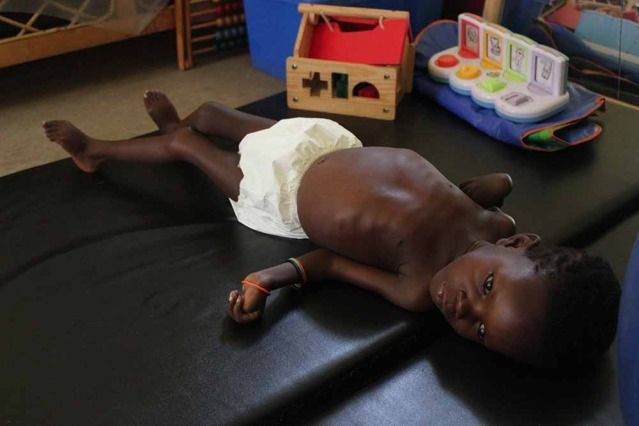 This is Ivan laying out on the mats. He is eight years old.
I spent some time reading excerpts from the four Gospels this morning, before heading over to the clinic. A number of my Bible's headings caught my eye–so many healings. Deaf people, mute people, lame people, paralyzed people. I think if Jesus were at Kasana, he would spend a lot of time with kids like Sharon and Kakulu and Allen and Ivan and the rest.
One of the highlights of the past two days has been my conversations with Uncle Eric, a Ugandan man who works with the special needs kids. I suppose he could be classified as "special needs" himself, since he has a lame foot and walks with a crutch. Uncle Eric has been helping me learn my way around the routine at the clinic, and does some translating for me as necessary. We spent some time today over lunch talking about medical needs here in Uganda, aspects of American life, and finding God's will for the future–yes, we covered some serious ground. One of my favorite exchanges went something like this:
Uncle Eric: "Which state are you from in America?"
Me: "I come from Texas."
Uncle Eric: "Ah, the state where the men are cows!"
Maybe "cowboy" is a confusing term for non-native English speakers?
The conversation then turned to orphans–their needs both physically and spiritually. I asked if Uncle Eric had lost his parents, and he answered with an affirmative. He asked if mine were living. I told him that thankfully, they are. "Grandparents?" he asked. "Yes," I said, "even a great-grandparent!" He smiled. "You are very blessed."
That's it. No need to know anything else about me. But I have parents, so I am blessed.
Perspective.
Wow.
Tags: Africa, Jesus, NHU diary, orphans, special needs, Uganda