a student of the classroom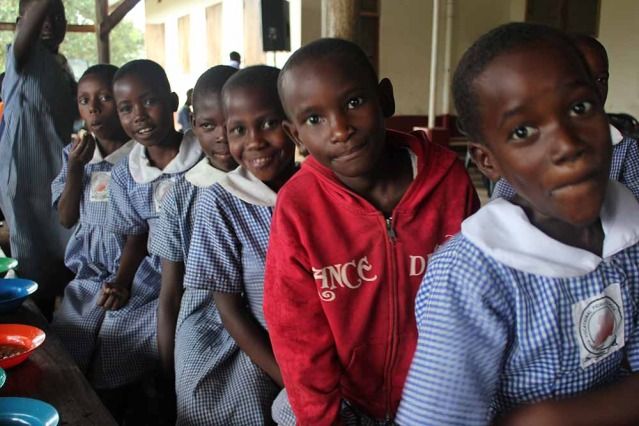 Students from P1 and P2.
Education in Uganda is so, so different from education in the United States.
Of course, the first major difference is that many Ugandans just don't get it—whether they can't afford to pay the tuition, or the kids are simply needed elsewhere. American kids don't stay home to carry clean water instead of learning to read. Some of these kids do.
A child in Uganda who does attend school will likely not complete grade 12. They may stop at Primary 7 (6th grade), and some choose to continue to Secondary 1 through 4 (7th through 10th grade). Very few will go on to Secondary 5 and 6 (11th and 12th grade), instead opting to attend a vocational school or specialized classes in their career choice. University is not the social norm.
Against this backdrop, the Ugandan classroom is worlds removed from its American counterpart.
It's a bit like walking into a schoolroom from Little House on the Prairie. Long "desks," which are really just tables, are lined up haphazardly along the walls. The seats wooden benches. The door and the windows stay open during class, because the only air you're going to get is what blows in through them. Against one wall, a chalkboard. Nothing else. And this is highschool.
As I wait for the kids, I glance over the "school rules" tacked to the wall. Uniforms must be worn at all time. No boy-girl relationships. No mobile phones. No speaking in Lugandan. A list of offenses for which a student may be caned.
The kids begin trickling in–it's 12:20 on the dot, but being on time is not their specialty. At least they're familiar with me now. "Welcome, Aunt." "You are welcome." "How are you?" I try to greet them all as they come in the door, but I don't know most of their names. So I stand in front of the chalkboard, smiling and waving and glancing at the clock and holding my iPad, which seems strangely out of place here.
Today we are giving "about me" speeches. I explain this to the kids, and they groan and sink lower in their seats—not too different from an American classroom there. I tell them it is because I want to get to know them. I really do. But I am the teacher—the schoolmaster—the one who stands, lectures, chastises, and remains aloof. Maybe they don't understand that I want to be their friend. I need their friendship.
One by one, they stand up and give me a little peep-hole into themselves. Some of them don't take it seriously and make things up—I know because I have a friend in the classroom who tells me afterwards. It's all right, we'll still become friends. All of them are uncomfortable commanding the platform. The one muzungu student, the son of a missionary family, stands up rather sullenly to give his speech. He says he doesn't know what he wants to do as a career. His Ugandan classmates burst into a chorus of laughter. It's not nice, fun laughter—it's the kind that makes him stare in stony silence at the ground, and finally take his seat.
I'm not really sure what to do.
A new day. We are discussing the elements of a persuasive speech, and so I ask for ideas. What would be a good topic for a persuasive speech?
"That village life is better than city life." "Sex before marriage is imprudent." "Live birth is better than abortion."
Wilbur raises his hand. I motion him to speak.
"That Africa is responsible for its own problems."
A fascinating idea for a speech. Great potential for insightful analysis. But is that a subtle hint of bitterness in those deep black eyes? As the Ugandan student faces the muzungu teacher?
I don't know.
And I'm really not sure what to say.
I don't know if I'm a good speech teacher. I hope these kids learn something—I hope I'm able to help them write and deliver a speech that puts something in their heart into words. I know they can do it. They have a great start.
But I am the student here, as much as they are. A student of the classroom. A student of people. A student of culture. A student of this place.
And I so want to learn.