Crossway Review: Treasuring God In Our Traditions
When I unwrapped this month's Crossway book for review on this blog, I was very interested and excited to begin the read.  Treasuring God In Our Traditions, by Noel Piper, is a short and simple look at the traditions in our lives—what they are, and why they're important.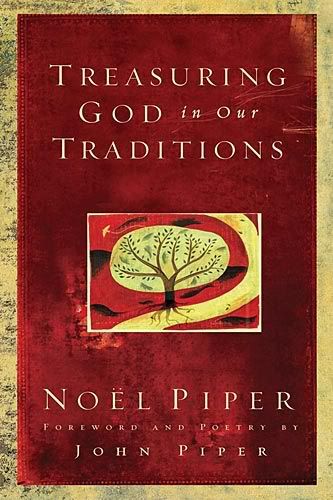 In each of the ten chapters of this book, Mrs. Piper explores common questions about tradition.  What is a tradition?  What makes them important?  How do they teach?  The chapters are supplemented with stories, poems (written by John Piper), an occasional recipe, and scripture verses.
I've never spent too much time thinking about tradition, but reading this book sparked a new interest and a desire for something more.  Mrs. Piper approaches tradition in a new way.  It isn't mindless habit or rote repition; rather, tradition is "laying up God's words in our own hearts, and passing his words to the next generation."
In this sense, Mrs. Piper writes mainly to parents, so much of the book wasn't directly applicable to my life as a young adult—at least, not yet.  But maybe someday.  And it's probably because of the 'someday' that I enjoyed the read.
One of my favorite parts of Treasuring God In Our Traditions was actually rather shallow: the design, inside and out, is fabulous!  It's simple, beautiful, and unique.  Each page left me eager to see the next.
In the end, Treasuring God In Our Traditions is an easy read that may very well be worth your time.  Parents, you're bound to come away with a broader understanding of tradition and more of a desire to implement it.   For young people like me…well, don't be afraid to be inspired for the future!